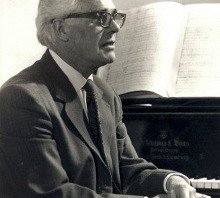 Cedric Thorpe Davie was born in Lewisham, south London on 30th May 1913 and, after studies at the Scottish National Academy of Music in Glasgow and at the Royal Academy of Music in London, studied composition with Vaughan Williams and Gordon Jacob at the Royal College of Music. He also took some composition lessons from Kodely in Budapest. From 1936 until 1945 he taught theory and composition at the Scottish National Academy of Music and in 1945 moved to St Andrews as the University's Master of Music. Two years later he founded the Department of Music, and between 1973 and 1978 was Professor of Music.
His one work for wind band will be performed in Scotland on January 17 2014 at the Royal Conservatoire of Scotland 5.30.pm
Royal Conservatoire of Scotland Wind Orchestra
Conductors Nigel Boddice & Tim Reynish
Cedric Thorpe Davie & Wee Cooper of Fife
Andrew Duncan - Rhapsodie for Tuba, Piano and Wind Band
Bernard Gilmore - Five Folk Songs for Soprano
Gareth Wood - 3 Mexican Pictures
Nigel, in his article about his recording of the work on a CD entitled Celebrations wrote as follows:
Cedric Thorpe Davie will be known to the brass world for all fifty Variations on a Theme of Lully. In the windband world he is noted for one humorous skit on "The Wee Cooper of Fife (Nickety nackety noo noo noo). It looks harmless, but don't be fooled for it should carry a government health warning. Written in a busy Fugue and Variation form it is of a 6/8 conception with multiple rhythms and syncopated issues played at high speed. It was originally written for the National Wind Ensemble of Scotland.
In his lifetime, Davie composed more than 200 pieces of music, including scores for films, radio, and theatre. Some of his film works included scores for The Green Man, a comedy starring Alistair Sim, The Dark Avenger, starring Errol Flynn, and Kidnapped, a Walt Disney film featuring James MacArthur and Peter Finch. His radio credits included The King of Nowhere and A House is Built. Davie also worked with Tyrone Guthrie and Robert Kemp to develop theatrical productions, including Ane Satyre of the Thrie Estaites, which opened the second Edinburgh Festival in 1948. In addition to his musical compositions, Davie authored several books, includingMusical Structure and Design and Scotland's Music. In 1953, he wrote the score for the Walt Disney production Rob Roy: the Highland Rogue. The film, starring Richard Todd (as Rob Roy) and James Robertson Justice premiered in the UK in October with a Royal Command Performance.
---
Share this Article: