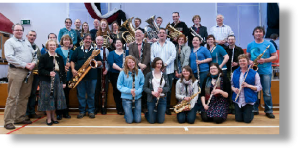 The Isle of Man Wind Orchestra will be holding its highly successful Wind and Brass Weekend between the 14-16th February 2014.
The weekend this year will be led by Rob Wiffin OBE, conductor of the Kew Wind Orchestra. As well as members of the Isle of Man Wind Orchestra and guests from the Bewdley Concert Band, the weekend is open to all musicians of any standard playing woodwind, brass and percussion instruments.

Thanks to sponsorship by Sure IOM participation is free for all full-time students.
Due to the anticipated large numbers the event is being held this year at St Ninian's Lower School, Bemahague, Onchan. It is part of the Island of Culture celebrations and is supported by the Isle of Man Arts Council.
For further information or to reserve a place, please visit:
---
Share this Article: