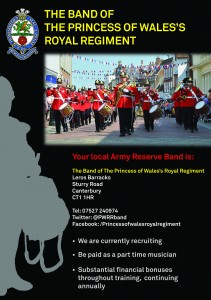 By Lance Corporal Charlotte MacQuarrie
The Band of the Princess of Wales's Royal Regiment is an Army Reserve band based in Canterbury. Despite our military connections, music is our passion, our profession and is at the heart of everything we do.
We are a friendly lot and our recent inspection has declared us as musically competent as the best bands in the British Army. However, in order to sustain this, over the coming months the addition of new players is essential.
I should probably add that the financial reward for playing with the band can be very lucrative, something which is a bonus for any 'hobby musicians' or professionals alike. Our military duties are absolute minimal!
We would be so incredibly grateful if you could help us at this time, and please take a look at the attached flyer for more information.
On behalf of the Band and Drums, I look forward to hearing from you soon.
---
Share this Article: