The Student Experience
Liverpool Hope University Concert Band rehearses regularly at its Childwall campus where Musical Director Anne James works as a Lecturer in Music Education. The band serves the wider musical community but more importantly provides a platform for the students at Liverpool Hope University to gain important skills in conducting a large ensemble.
Anne encourages trainee music teachers on the one year PGCE course to work with the band as part of the development of musical, conducting and rehearsal skills.
Any trainee music teacher can conduct the band although it is usually the wind players on the PGCE course who choose to be involved in this way. This also helps boost the players in the band as trainees play along when they are not conducting, providing excellent role models for other members and helping to run sectional rehearsals and support those less skilled players generally.
Over the five years that the band has been running many students have had the opportunity to conduct the wind band and have credited the experience with helping to develop their musical skill and confidence. Some have already had conducting experience, perhaps with brass bands, choirs or orchestras, and others have no experience at all. Whatever, their prior experience, conducting the University band provides for development of a skill which is invaluable in a school context. Some of the more experienced trainees now act as mentors for less experienced new members. (Anne James the conductor approached a number of trainees to share their experiences of what they have learned while conducting with the band.)
Chris Tratt is a flautist who completed his PGCE two years ago but continues to take part both as a player and conductor. He said of the band that; "the experience of conducting the Hope University Band is important as it allows teachers and trainees the opportunity to develop a skill that is not available on every music degree course," attributing his improving conducting skills within a large ensemble to his involvement with the band; "conducting has helped me to develop my skills in working with a large ensemble listening to the music as a whole and not just focusing on my own part." Another flautist, Chris Burridge credited it with enabling him to learn the basics of conducting, and due to the encouragement and feedback he receives he feels that he is picking it up quickly. He believes that it also benefits his classroom teaching as "score-reading and listening is such a vital part of KS4 and KS5 courses [as well as] the necessity to understand pupil compositions and how their pieces might work with real-life musicians."
Euphonium player, Penny McVey says "that without the opportunity to conduct Hope University Band, I would not have had any experience conducting a large ensemble, which I believe is a necessity as it is like playing as instrument in its own right; you have to develop the skills and build up a good relationship with the ensemble."
In addition to developing skills, Penny believes that conducting has given her skills which she has transferred into her current job as a peripatetic music teacher, and more specifically a leader, as "it has given me the confidence to lead rehearsals and stand up in front of large groups of musicians and know what I am supposed to do."
Sean Chandler was already an experienced conductor when he joined Liverpool Hope University and he agrees that the experience of conducting a band is useful for all music teachers. He says it "develops your capacity as a leader [...] and you can be a model of consistency and professionalism" which allows for an opportunity to "develop musicianship in the pupils you are in charge of." Sean believes this is possible because he demonstrates the desire to be the best he can be, so that the students can be the best they can be.
Footnote:
Anne James has worked in schools for over twenty years and has always run thriving band programmes. Anne is now a Lecturer in Music Education at Liverpool Hope Univeristy.
Anne believes that by encouraging new music teachers to work with a wind band she is encouraging school music departments to consider forming or developing their existing performance groups. Anne wants new music teachers to go into school saying 'what opportunities do your wind players have to perform together and how can I help to develop that further?'In this way wind bands in a school setting will continue to thrive and newly qualified teachers will be empowered to start their own bands where none exist.
Editor's Note: Well done Anne, your trainees and Liverpool Hope University.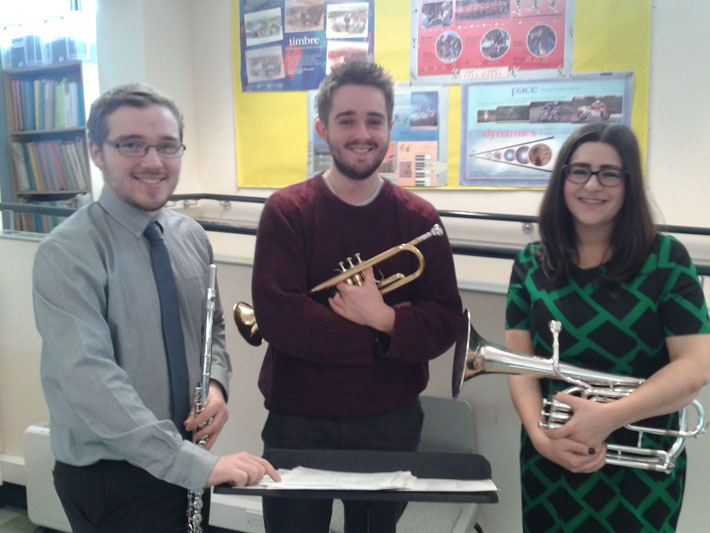 ---
Share this Article: