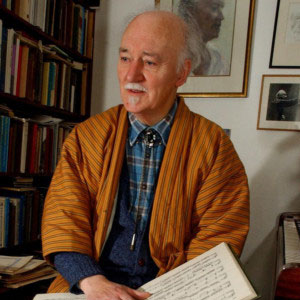 6 March 1928 ? 28 March 2015
Ronald Stevenson, who died on March 28th 2015 was one of the most remarkable pianists and composers of his generation. Born in Blackburn, he studied at the Royal Manchester College of Music with Richard Hall for composition and Iso Ellinson for piano. He was an early champion of the music of Shostakovitch, and his most outstanding work for piano is a Passacaglia in D.S.C.H, the musical letters in Shostakovitch?s name. This is a tour de force, and at 75 minutes is one of the longest single movement works for piano. His other great enthusiasms included folk music of all types but particularly Scots, the music of Busoni and of Grainger. An inspirational lecturer and teacher, he was a larger of life character both in Scottish and English musical life; he held a position in York University and also abroad in Universities in Melbourne, Shanghai, Cape Town and New York.
Comrades in Art: The Correspondence of Ronald Stevenson and Percy Grainger, 1957-61, with Interviews, Essays and other Writings on Grainger by Ronald Stevenson (Musicians on Music) Edited by Teresa Balough, retail price ?40.00
In 1957 the Australian-American composer Percy Grainger, then 75 and in failing health, received a letter from another pianist-composer, the young Ronald Stevenson, writing from his home in West Linton, below Edinburgh. That first contact - requesting Grainger's reminiscences of Ferruccio Busoni, with whom he had studied - led to an exchange of 32 letters over the four years before Grainger's death in February 1961. The two men soon found that, despite their 46-year age-difference, they had many affinities. Both were pianists of staggering abilities and composers who combined a love for folk-music and working-class art with an aesthetic that proposed a `world music' to include the farthest reaches of humanity. Both made an art of piano transcription of a wide variety of works and were champions of little-known music and composers. And both revered the work of Walt Whitman, that great poet of inclusivity, the pioneering spirit and the open road. This book presents both the complete Grainger-Stevenson correspondence and Ronald Stevenson's many articles and lectures on Grainger and his music, edited by Teresa Balough, whose two interviews with Stevenson open and close the volume - which includes a CD of a lecture-recital on Grainger that Stevenson presented in Grainger's home in White Plains, New York, in 1976.
Reviews
This is a welcome addition to the Grainger literature in this fiftieth anniversary of his death. (...) there is much to enjoy and to think about from the pen and voice of a very fine composer (...) reflecting and illuminating our understanding of Grainger. (...) the book is beautifully produced, with many attractive and revealing illustrations. DELIUS SOCIETY JOURNAL Comrades in ArtI\> is a highly entertaining portrait of two composers: Percy Grainger and Ronald Stevenson. ... (A) must have for the Grainger enthusiast. The book is attractive in organization and content... . Comrades in ArtI\> is more than just the correspondence between two composers. It is a study of the music of Grainger and its place in music culture through the eyes of a scholarly admirer. TEMPO Ronald Stevenson proves himself an eloquent Grainger devotee, in his writings, in interview with Teresa Balough, and on the accompanying CD, noting the connection between Grainger and Busoni, the shared devotion he had to Whitman, and delight in Kipling. Stevenson is clearly a pianist in the Grainger manner, robust and forthright. It is a joy. MUSIC & VISION DAILY The subsequent, if short, correspondence ranged widely and they discovered common interests, folk music and the poetry of Walt Whitman among them. Perhaps Grainger's most astonishing claim is that he was the real pioneer in most aspects of modern music. (...) There is a lot of material available about Grainger and this unabashed tribute is a complement to that. And we get to make closer acquaintance with Ronald Stevenson along the way. FANFARE Fascinating and entertaining reading...The men correspond with a style and grace that seems remote in this e-mail age....Reading these letters...will have you fired up about two under-appreciated musical free-thinkers. SCOTSMAN
Grainger was the source of inspiration for his one work for wind orchestra, Corroborree for Grainger. Information about score and parts is available from Barrie Ould, Bardic Edition, Telephone: 01466 799555
Corroboree for Grainger (1989) Ronald Stevenson
Corroboree is an Australian Aboriginal word for a dance festival. This piece is in the spirit of Grainger's statement: `I consider the communal development of folksongs is no whit inferior to the individual achievement of a great, outstanding "original" genius. I should like to see every man tinkering with every other man's art. What kaleidoscopic, multitudinous results we should see!'
The opening section of Corroboree quotes a group of Grainger's best- known tunes [most of them folk-tunes]. The first big tutti combines four of these contrapuntally.
In l909 Grainger was the first to notate from an Edison phonograph a genuine Aboriginal melody from his native Australia - one of the most ancient melodies in the world. This is given here on piccolo and soprano saxophone, with low brass evoking the Aboriginal didjeridu, the Australian Alp-horn; and with boomerang percussion - one stick held to the body and struck with the other. There follow impressions of bush music - the great wilderness - and a tramping, hiker's march - athletic, not military. Grainger's beloved 'soul-shaking hillscapes of Argyll' are suggested in an extended horn solo, with the horn's 'bell' pointed to the piano strings, which, through the pedal, reverberate like the echoing bens. From the peace of the wilderness we come, as Grainger did, to settle [of all places] in New York: a Gershwinesque blues hones down the band's sonorities to chamber-music style.[Gershwin was one of Grainger's favourites; others were Bach, for his many voices, and Delius for his large serenity]
The last section is in piano-concerto-style, developing material from the opening. Towards the end there is a parade of tunes on solo instruments, sounding 'over the hills and far away'. Arm-in-arm with Grainger's modern Pied Piper, we are lured away from urbanisation to the only possibility for survival - a truly Green Peace. But there are warning glimpses of darkness amid the general jollity which may elude the unwary. Just before the end there is a brief backward glance at the Aboriginal tune, with a frisson of fear. A trek to peace - or a dance to destruction? All of us, collectively, will no doubt decide. The work is a tribute to youth and to those young-in-heart of any age; to those who still hope
Ronald Stevenson
---
Share this Article: