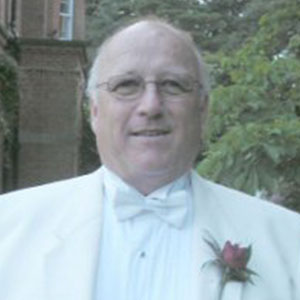 Allan Jones was born in Bangor on 6th August 1947. He excelled as a trumpet/cornet player and was soon the first cornet in the local band by his early teenage years. At 18 he took up a teacher training place at West Midlands College where he studied Music, PE and English. In 1968 he moved to Manchester to take up his first teaching appointment at Greenfield Secondary Modern School for Boys, in Hyde.
In the early 1970s he moved jobs to work for the Manchester Music Service. He formed and conducted the very successful North Brass Band as part of his work in education and held several jobs in Manchester eventually becoming the Head of the Music Service, a post he held from 1990 until his retirement in 2006.
In 1983 he formed the Werneth Concert Band, a community band based in the Romiley area of Stockport. Since its formation, the Band has been a member of BASBWE. On a number of occasions the Band entered the Boosey and Hawkes National Concert Band Festival, twice winning the Gold Award for the Community Band section. Thanks to his vision, enthusiasm and commitment the Band has gone from strength to strength; it has developed a Youth Band and a Swing Band and, in 2014, moved into its own band-room. Under Allan's leadership the band commissioned seven original pieces for wind band, including 'Walkabout' by Ray Woodfield, 'Full Fathom Five' by Peter Graham and 'Y Serens Ddawns' by Nicola Renshaw.
For a number of years, Allan served on the national executive of the Federation of Music Services and the British Association of Symphonic Bands and Wind Ensembles.
Over his career, a huge number of children and adults have benefited from Allan's inspirational leadership and talent as an educator and conductor. Allan always had a clear vision of what the learning of music could and should offer, especially in inner city areas where many of the kids come from challenging social backgrounds; he believed that all young people should be given the opportunity to learn a musical instrument and take part in music-making activities and that the social aspects of music making could play a significant role in developing the whole person.
Allan's funeral took place in St Chad's Church, Romiley on Wednesday 28th April. It is a testament to his life's achievements that the church was full to overflowing and many friends and players took part in the brass ensemble which played for the service.
Allan is survived by his wife Pat, their two children Becky and Simon and much-loved grandson Sam.
---
Share this Article: