Having seen the new Bond movie, A Time to Die, delayed yet again, we thought it unfair that audiences should continue to miss out.
The music of James Bond has been a staple of Eynsford Concert Band's repertoire for many years - so we decided to record and release our own movie, Bond, James Bond, featuring some of the great musical hits from the franchise (in an arrangement by Stephen Bulla).
Having been unable to rehearse in person since March 2020, our blockbuster had to be recorded virtually. There's no backing tracks or trickery here – our performance is recorded entirely from scratch, by our band members playing their instruments at home. Smartphones were used to record our musical and acting performances, with all content collated and edited centrally into one final production.
The video tells the story of the theft of the National Concert Band Trophy (which we won in 2014) and the 'agents' of the bands' attempts to find and recover it from the mysterious villain. It's a bit bonkers but designed to make you smile whilst listening to some great music. We hope it showcases the sense of fun in the band and what happens to musicians when left to their own devices at home!
It's not THE Bond movie but it's OUR Bond movie - a tribute to the classic films and a chance to put a smile on the faces of our audience. We hope you enjoy it.
Our lockdown video heritage
Our videos were started as a way of keeping us playing together, although they have turned into something bigger and more fun than that. This is the third lockdown video for the band, with our previous videos featured in local press and viewed widely on YouTube. The first video The Great Escape gained acclaim from musicians around the world and even featured a short cameo from comedian, Al Murray. Our second video, Sleigh Ride, was a Christmas treat for our locked down audience.
Both videos and other great musical content can be found on the band's YouTube channel:
www.youtube.com/channel/UCVU0ItMmvXGDyv5aohnqUMA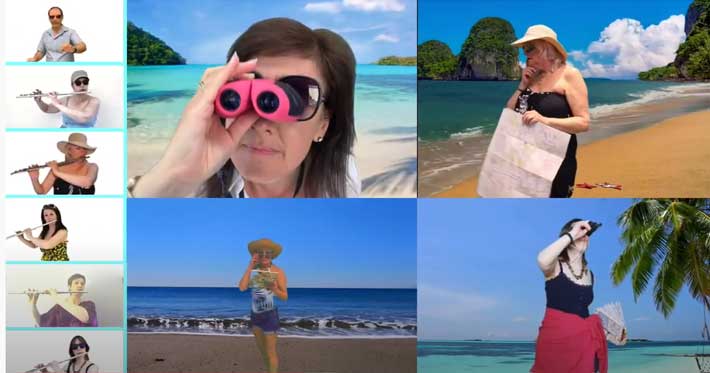 ---
Share this Article: