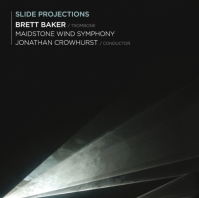 Maidstone Wind Symphony (MWS), one of the UK's leading amateur symphonic wind orchestras, is delighted to launch its first professional recording Slide Projections in association with Brett Baker, acclaimed trombonist of the world-famous Black Dyke Band.
Slide Projections features wonderful new music for symphonic band and trombone including the 'T-Bone Concerto' by Johan de Meij, Philip Sparke's 'Trombone Concerto' and the world premiere recording of Rob Wiffin's brand new 'Concerto for Trombone'. Wiffin's concerto was written specifically for Baker, who is an ambassador for new trombone compositions and has been involved in the commissioning over 100 works.
'Brett Baker has been a splendid advocate for the development of the original repertoire for trombone and wind orchestra and brass band. Thanks to his initiatives, my T-Bone Concerto has reached many audiences in various corners of the globe, for which I am truly grateful.' Johan de Meij, composer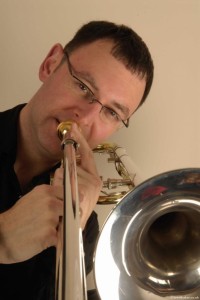 'The recording offers a great listening experience to anyone interested in wind and brass playing of the highest caliber.' Andrew Justice, principal trombone of the International Staff Band of the Salvation Army
'Maidstone Wind Symphony plays with exceptionally good taste.' Scott Shelsta, acclaimed trombonist (USA)
'Never ever has the piece (Canterbury Chorale) been performed/recorded so close to its inspirational source.' Jan Van der Roost, composer
This is the first CD release by Maidstone Wind Symphony and conductor Jonathan Crowhurst, and the disc also features a performance of the beautiful 'Canterbury Chorale' by Jan Van der Roost. This spiritual piece perfectly complements Baker's superb solo performances - from the energetic latin rhythms in Sparke's third movement to the heartfelt melodies of the serene second movement in Wiffin's concerto.

To celebrate the release of Slide Projections, Maidstone Wind Symphony will be collaborating again with Baker in their hometown of Maidstone, at Mote Hall on Saturday 23rd February 2013. Together they will be performing the de Meij T-Bone Concerto, as well as a special performance of Karl Jenkins epic work 'The Armed Man' (arranged by Martin Ellerby) with Maidstone Choral Union.
Slide Projections featuring Brett Baker is available now for ?12 plus p&p. To order a copy please email
or visit
---
Share this Article: