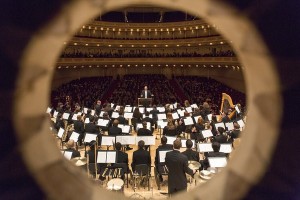 REVIEW FROM THE NEW YORK TIMES
Photo credit: Richard Termine for The New York Times
The University of Kansas Wind Ensemble performing at Carnegie Hall on Tuesday night.
By Steve Smith - Published: March 29, 2013
For many casual observers, the term "wind ensemble" will conjure up notions of earnest students huffing and thumping through Sousa marches and college fight songs. But aficionados, and those who have played in a university wind ensemble during the last 30 years or so, know that such groups now constitute a bona fide hotbed of opportunity for contemporary composers. Neo-Romantics, avant-gardists and postclassical eclectics have heeded the call, lured by generous commissions, multiple performances, and rehearsal time measured in weeks instead of hours.
On Tuesday night one of America's most esteemed concert bands, the University of Kansas Wind Ensemble, came to Carnegie Hall to introduce a commissioned work with the potential to resonate well beyond the usual college circuit, Mohammed Fairouz's Symphony No. 4. Mr. Fairouz, a versatile, prolific young New York composer, based his piece on "In the Shadow of No Towers," a graphic-novel memoir by Art Spiegelman about the personal impact and wider ramifications of the Sept. 11 attacks on the World Trade Center.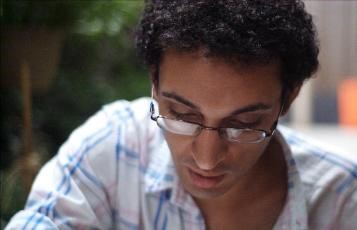 The notion of an Arab-American artist addressing Sept. 11 with an ostensibly lowbrow mix of band music and comics might have seemed paradoxical, but what resulted is technically impressive, consistently imaginative and in its finest stretches deeply moving. Rather than adapting Mr. Spiegelman's narrative literally, Mr. Fairouz uses a handful of potent images as a starting point for his own idiosyncratic elaborations.
In the first movement, "The New Normal," Mr. Fairouz uses a comfortably mundane opening theme to evoke a triptych of panels depicting a family watching television before, during and after the attacks. Bomblast erupts midway through, after which the initial theme resumes, warped with dissonances and crowned with a funereal trumpet solo (played eloquently here by Janis Porietis).
"Notes of a Heartbroken Narcissist" sets gentle, melancholy strains on piano, harp and double bass against scraping, skittering percussion, meant to suggest workers digging through the wreckage. In "One Nation Under Two Flags" the ensemble splits into separate groups. A marching-band configuration plays garish, jingoistic fanfares inspired by those in Stephen Sondheim's score for "Pacific Overtures"; they clash with the urgent, angry strains, redolent of Philip Glass's cinematic style, played by the rest of the musicians.
"Anniversaries," a concluding movement calculated to last 9 minutes 11 seconds, evokes memories simultaneously fading and swelling; over a steady ticktock rhythm on woodblock and claves, a melancholy theme on saxophones wanders through various soloists and sections, building to a more controlled reprise of the opening movement's outburst.
The ensemble, conducted by Paul W. Popiel, performed with polish, assurance and copious spirit, eliciting a rousing ovation for its members and for Mr. Fairouz. The playing was equally exacting and enthusiastic in the concert's opening work, Mark Lortz's effective arrangement of Mr. Glass's grandly buoyant Concerto Fantasy for Two Timpanists and Orchestra, which featured Ji Hye Jung and Gwendolyn Burgett as the precise, animated soloists.
---
Share this Article: