Artist: Andy Findon & Geoff Eales
Composer: Geoff Eales
Title: "The Dancing Flute"
UK Release: 7th May 2013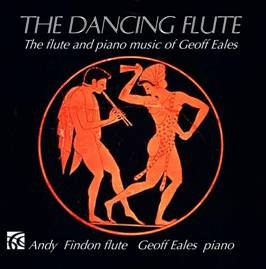 Geoff Eales and Andy Findon are two of the UK's most inspirational and eclectic musicians and nowhere is this better exemplified than on their new album "The Dancing Flute" which features thirteen compositions by Geoff. The CD is a testament to the duo's all-inclusiveness with classical, jazz, Latin and folk influences all present. Andy plays a variety of flutes including alto flute, bass flute, piccolo and penny-whistle, the album a celebration of the life-enhancing qualities of the dance.
Tracklisting
Eternal Dance
Song For My Mother
In The Pocket
Remembrance
Elf Dance
Lochria's Rhumba
In The Eyes Of A Child
Farewell Patagonia
The Sad Little Geisha Girl
Force 11
Ice Maiden
Pan Dance
The Last Kiss
Composer & Repertoire Information
"The Dancing Flute", featuring compositions by Geoff Eales, is a celebration of the life-enhancing qualities of the dance. You will hear vibrant Eastern European rhythms, tango, rhumba, flamenco and American swing. There are also nods in the direction of Irish folk music and the Orient. The influences on Geoff's compositional style are many and varied, Debussy, Ravel, Bartok, Stravinsky and Messiaen amongst his primary influences, though the jazz element is never far away.
Geoff Eales is a Ph. D graduate from CardiffUniversity where he studied composition under Professor Alun Hoddinott and piano with Martin Jones. His compositions include a symphony, piano concerto and numerous chamber works.
"this new disc from multi-instrumentalist Andy Findon and pianist Geoff Eales creates an enjoyable fusion of classical and popular styles. From the outset, the high recording quality is evident, with the rich piano sound evenly balanced against Findon's flute." (Carla Rees/Pan Magazine/March 2013)
Concerts and Events
Andy Findon and Geoff Eales are thrilled to be celebrating the release of their stunning new album at The Forge, one of London's premier music venues, on Thursday 18th April 2013 at 7.30pm. At this event, Andy will be playing a variety of flutes including alto flute, bass flute, piccolo and penny-whistle as well as one or two instruments of a distinctly ethnic nature.
In their regular concerts, Geoff and Andy play a broad range of music, Geoff's compositions interspersed with works by composers as diverse as Bartok, Fauro, Enesco, Debussy, Michael Nyman, Bill Evans and Chick Corea.
Artist Information
After leaving university, Geoff Eales located to London where he very quickly immersed himself in the metropolis' thriving session scene. Before long, he became one of the most sought-after studio pianists, working with a vast array of musical luminaries including Andrew Lloyd Webber, Henry Mancini, Lalo Schifrin and Elmer Bernstein. Geoff is also regarded as one of the UK's most formidable jazz pianists. He has ten highly acclaimed albums to his name and has graced the stages of many of the world's leading jazz festivals, clubs and concert halls such as Belgrade, Zagreb, Cork, Brecon, New York's Birdland, Los Angeles' Jazz Factory, the Blue Note Clubs of Japan and London's Ronnie Scott's and Royal Festival Hall.
Further information can be found at:
"As original as they come, listening to everyone but beholden to no single influence, Eales demands your attention with the force of his musical personality and keeps it with his musicianship" - Budd Kopman (Cadence USA)
Geoff is also pleased to announce the release of his first live recording "Free Flow" on the 33Xtreme imprint later this spring - it is a freewheeling improvised set in collaboration with Ben Waghorn (saxes & bass clarinet) and Ashley John Long (double bass).
As well as being an outstanding classical flautist, Andy Findon is one of the world's leading exponents of the ethnic flute, his playing features on hundreds of films, records, adverts and TV shows. However, his musical activities are not confined to the flute. He has played baritone saxophone and flutes in the Michael Nyman Band since 1980 and is a member of the award-winning folk band "The Home Service". His personal recording projects include his transcription of Michael Nyman's "Yamamoto Perpetuo for solo flute" and several other albums, the most recent, "Density 21.5" released by Nimbus Alliance (NI6157). Full details can be viewed at:
"The flute leaps boldly, willingly, spectacularly into the 21st century" Dr Eileen Yarrison (Greater Boston Flute Association)
---
Share this Article: