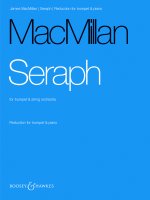 James Macmillan: Seraph
A seraph is a celestial being or angel, usually and traditionally associated with trumpets.
MacMillan's "Seraph" is a new concertino for trumpet and strings, in three short, contrasting movements, and a welcome addition to the instrument's concerto repertoire, following the same composer's "Epiclesis" (1993).
Although challenging to play, the work does not use extended techniques; it is therefore suitable for advanced standard students and professional soloists alike. In programming terms the work provides the perfect foil to string orchestra pieces from the baroque and classical periods.
Seraph, for Trumpet and Piano, is available now.
?15.50 / ?19.99
Also available:
Seraph (Study Score)
?8.99 / ?11.99
More information at:
---
Share this Article: