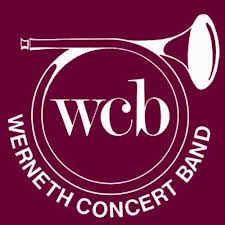 By Allan Jones (Founder/Musical Director) and Nick Bradley (Past Chairman)
"... and they said it wouldn't last"
This is a quote from our 10th Anniversary Celebratory Brochure, produced in 1993. Twenty years on the band is, this year, celebrating its 30th anniversary.
Identifying a lack of opportunity for wind and brass players in the Stockport area to make music together, Allan, with the help of some friends set about rectifying this gap in the local amateur music making scene. A poster in the local free press and posters around the village of Romiley and elsewhere brought over 40 players to Hatherlow Church Hall, Romiley, Stockport, on the 19th April, 1983. The outcome of the meeting was for a new wind band to be formed under the name of Werneth Concert Band, Werneth being the collective name for the various villages lying to the south east of Stockport.
One week later the band had its first rehearsal at the same venue. Indeed, just 7 weeks later, the band gave its first concert at the Romiley Forum Theatre, now The Forum Theatre. On this occasion the concert was shared with guests, the Cheshire Police Band. Since this time The Forum Theatre has become its concert base with, at least, two concerts held there every year. From these humble beginnings, the band has grown to its present strength of approximately 70 members. More recent innovations have seen the formation of a swing band, a youth band of over 40 young instrumentalists and a range of smaller ensembles including a clarinet choir, saxophone quartet, wind quintet, brass quintet and a horn quartet.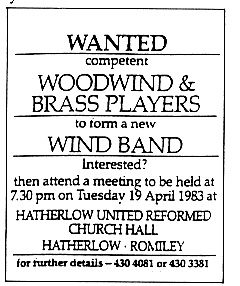 Werneth Concert Band undertakes approximately 12 concerts each year, in venues, in and around the Stockport area and, further afield, including regular performances at the Royal Northern College of Music, Manchester. Although, not a regular participant in competitions, the band has achieved great success in regional and national band festivals achieving Gold Awards on numerous occasions Since 1991, the band has also undertaken regular European Concert Tours including visits to Germany, Portugal, Spain (3 times), Ireland, Jersey and North Wales (3 times).In this, the band's 30th year, we will be returning to Portugal. We have also hosted groups from Holland, Spain and Wales.
Werneth Concert Band is truly a community group, completely self financing and open to players of "reasonable" standard; however, due to its success and growing reputation, it has had to introduce a waiting list, one which continues to grow, in order to maintain a balanced ensemble.
Of particular note, the band has recorded 3 CDs, "Werneth Concert Band", "Flourish" and, more recently, "A Werneth Celebration". It has also commissioned a number of new works for wind band including Waiting Game (Bill Connor), Spirit of Catalonia (Ray Woodfield), A Werneth Celebration (Daryl Barry) and A Werneth Suite (Terence Greaves).
To mark its 30th Anniversary, the band has commissioned two further pieces with funding from the Arts Council of England(ACE), a yet un-named piece by well known composer, Peter Graham, based on Shakespeare's The Tempest and Y Seren Ddawns(The Dancing Star), again based on a Shakespearean play, Much Ado About Nothing, composed by our band chairman, Nicola Renshaw. Both these pieces will receive their first performances at The Forum Theatre, Romiley as part of a special 30th Anniversary Concert, on the 18th May. Further performances will be given during its concert tour to Portugal at the end of May, at a joint concert with California Polytechnic University San Obispo Band on 26th June at the Royal Northern College of Music, Manchester, 30 years to the day after its very first concert, and at the magnificently renovated, Gorton Monastery, Manchester, as part of a Shakespearean themed concert, on 10th November.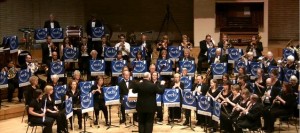 This special year in the band's history will also be celebrated with a 30th Anniversary Dinner, to be held at a Stockport hotel in July, when past and present members, friends and supporters can reminisce over the last 30 years.
"... and they said it wouldn't last"
Werneth Concert Band playing at the Royal Northern College of Music
---
Share this Article: