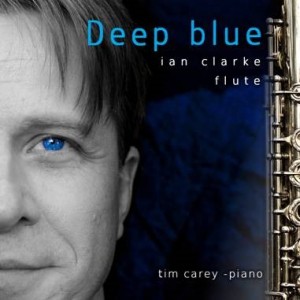 Player-composers of all instruments have been an engine of innovation and artistry in the past; Ian Clarke is proving to be one of those player-composers in the flute world of today.
Ian Clarke is proud to announce that his new recording "Deep Blue" is released both on CD and digital download today, Monday 13th May 2013.
Ian's first album ("Within" IC01) was the number one best seller in specialist flute shops in the US and UK. It was described as 'amazing', 'inspiring' and his playing 'incredible' in the media. This new album looks set to continue the story. The published music from his first album has become established as some of the most exciting flute repertoire of today being embraced by internationally acclaimed performers, teachers, colleges & students alike. His second album has been keenly anticipated and with this album Ian presents his flute works composed between 2006 & 2012.
Initial reaction from colleagues in the flute world are excellent:
"You create new fields of sound and music making on the flute, always expressive and virtuosic, in a very personal style that takes us beyond anything we've heard before."
Emmanuel Pahud - international soloist, principal flute of Berliner Philharmoniker
"Ian Clarke's new CD transcends the work of most other flautists from a Classical Music background. Constantly inventive and cutting edge in terms of rhythm, melody and "alternative" flute-playing techniques, he brings great traditional skills to bear too, with perfect intonation and technical bravado. An eclectic delight! Luckily for me, he doesn't sing or play acoustic guitar as well....
Ian Anderson of Jethro Tull - singing, fluting, guitaring front man of the legendary rock group.
Ian Clarke is acknowledged as one of the leading player/composers in the flute world. His compositions have been performed across five continents and by internationally acclaimed performers, teachers, colleges & students alike. Many of these works are featured on his acclaimed first solo CD 'Within.... Ian studied with Simon Hunt, Averil Williams and Kate Lukas as a part-time student of the Guildhall School of Music & Drama, London whilst concurrently studying Mathematics at Imperial College, London graduating with Honours. Ian is professor of flute at the Guildhall School of Music & Drama. In addition to giving recitals, master-classes and workshops in numerous countries, he has performed as a featured guest soloist at major flute conventions throughout the world. Ian also works with musician/composer Simon Painter writing and producing music for film & television under the name of Diva Music. Further information can be found at:
Tim Carey enjoys a career full of variety, as solo performer, chamber musician, orchestral keyboard player and teacher. His early studies were with Harold Parker, Louis Kentner and then at the RCM, London with Kendall Taylor, David Parkhouse and Bernard Roberts. He performs with many different instrumentalists and in particular has now established an international reputation as a flautist's collaborator playing at flute events all over the world. He is a founder member of the London Tango Quintet and works as an accompanist at all of London's music colleges, in particular the GSMD. As an orchestral player he has worked with the LSO, the Bournemouth Orchestras, the Philharmonia, the Ulster Orchestra and the BBC Concert Orchestra. Tim is much in demand as a teacher in his home county of Essex.
To coincide with the CD release, Ian Clarke and Tim Carey will be performing pieces from Deep Blue at The Forge one of London's premier music venues, on Tuesday 14th May at 7.00pm
---
Share this Article: