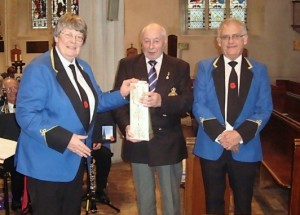 Salisbury City Band of The Royal British Legion
Free concert: Sunday 16 June at 3 pm, St Martin's Church
Maj (retd.) A. Markham AAC AFC is welcomed as Band Chairman
Sponsorship from groups or individuals would be welcomed to help with the expenses of this free concert. The band will be performing in St Martin's Church with singers from the Alzheimer's Society's local groups for 'Singing for the Brain'. The concert starts at 3pm and everyone is welcome for a fun 'sing along'.
The programme includes As Time Goes By, Swing Low Sweet Chariot and other timeless favourites. It ends with a rousing rendering of Land of Hope and Glory and There'll Always be an England. Guest Conductor - Gary Turner has a long association with the Alzheimer's Society and has extensive experience of conducting local groups.
In other news...
June is a busy month for the band. 1st June saw the band playing at Amesbury Carnival under the direction of Peter Bede. We are playing for Whiteparish Carnival on 22nd June. The Southern Jacobites Pipers are sharing carnival duties. On June 30th the band may be seen performing for Armed Forces Day in Salisbury.
Brass players able to play solos are always needed. Woodwind and percussion are occasionally required to cover absences. If you, or musicians you know, are interested please ring 01722 331163 or email:
Rehearsals are on the first and third Thursdays of each month.
---
Share this Article: