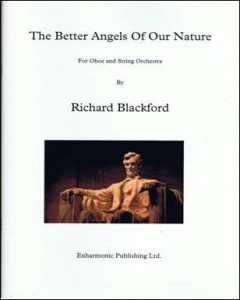 Composer Richard Blackford's "The Better Angels of Our Nature" was commissioned by and is dedicated to Emily Pailthorpe with funds provided by Howarth of London. It will receive a World Premiere Performance on June 29th 2013 at the 42nd International Double Reed Society Conference at the University of Redlands, California. Emily Pailthorpe will be joined by the Redlands Symphony, conducted by Gordon Hunt.
The inspirational plea for reconciliation from Abraham Lincoln's first inaugural address on March 4th 1861 was Richard Blackford's starting point for a fifteen minute concerto for oboe and strings for the virtuoso oboist, Emily Pailthorpe, to whom the work is dedicated. It is divided into two continuous movements, separated by Taps, the bugle call which is played traditionally for funerals or at sunset.
"We are not enemies, but friends. We must not be enemies. Though passion may have strained, it must not break our bonds of affection. The mystic chords of memory will swell when again touched, as surely they will be, by the better angels of our nature."
Plans are in hand for a recording of this new piece, featuring Emily Pailthorpe, for release later in 2013 or early 2014. It is further intended that the score will be published in the coming weeks after the premiere performance, via Enharmonic Publishing Ltd. To order please enquire via:
Richard Blackford is one of the pre-eminent concert and media composers of the UK. His music has been performed and broadcast all over the world and has been featured in the Adelaide, Cork, Montepulciano, Brighton, Cheltenham, Long Island and Berlin Festivals. His feature film credits include City of Joy, Prometheus and Song for a Raggy Boy, the latter winning eleven international film festival awards. He is the most performed media composer in Germany, having over one hundred and forty drama feature credits to his name for ZDF alone. UK TV credits include the acclaimed BBC BAFTA-nominated drama Fingersmith, A Little Bit of Lippy, Summer Solstice, Ruth Rendell Mysteries, 1940s House, Family, Finding Sarah, Preston Front and Shell Seekers, starring Vanessa Redgrave. In 2008 Richard was appointed the first ever Composer in Association with the Brno Philharmonic, who gave the world premiere of his Violin Concerto.
Both of his critically acclaimed choral works "Mirror of Perfection" and "Voices of Exile" were the subjects of television documentaries and have been frequently broadcast on Classic fM and BBC Radio 3. September 2011 saw the premiere of another major choral work "Not In Our Time", commissioned for the Centenary of the Bournemouth Symphony Chorus, at the Cheltenham Music Festival. It was subsequently performed to great acclaim in Chicago in 2012.
Emily Pailthorpe first gained public attention in 1989 when, as the youngest artist ever to win the Gillet International Oboe Competition prize, she was hailed by the judges as the 'Jacqueline du Pre of the oboe'. Emily went on to study English at Yale University and oboe at the Juilliard School of Music winning prizes for both concerto and orchestral playing. She appeared as Principal Oboe with many orchestras, including the Baltimore Symphony, Dallas Opera, Hall, Orchestra and London Philharmonic Orchestra among others. She is a founder member of the mixed chamber ensemble Conchord, with whom she has recorded and toured Europe and America. Resident in the UK since 2000, Emily made her solo Wigmore Hall debut in June 2004. Other solo appearances have included the Schleswig-Holstein Festival, the Spoleto Festival, Italy, and the Strauss Oboe Concerto with the Philharmonia Orchestra. Her CDs, Though Lovers be Lost and Oboe Divas are on the Oboe Classics label.
---
Share this Article: