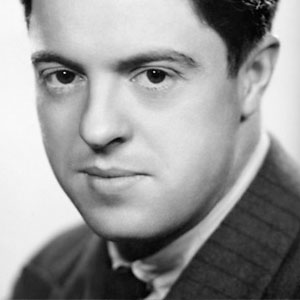 Born St. Ives 28th June 1913
Died London July 3rd 1998
This year sees the centenary of the birth of George Lloyd, one of the most remarkable composers of the twentieth century. He showed prodigious talent as a violinist and composer and had composed three symphonies and two operas before the outbreak of World War 2 in which he served in the Royal Marines Band Service. His ship, HMS Trinidad, was holed by one of its own torpedoes, and Lloyd wrote of the incident:
"I am writing this account as I was the last to leave the Transmitting Station and have always kept vivid memories of what took place. There were twenty one men in the transmitting station. Seventeen died. I was stationed close to the ladder, working the switchboard. The ladder was the only way of getting in or out. I was some way up the first ladder when I lost consciousness and remember nothing until I crawled out of the hatch two decks up. Somebody did try after me but the huge hatch cover fell on him and broke his back so I was the last out of the TS."
Traumatised by this horrific incident, Lloyd gradually regained health after the war; in 1951 he virtually abandoned his career in music, and retired to the country, pioneering new modern growing techniques in his market garden. He composed rising at 4.00am, without critical success; his style was totally out of fashion. He wrote: BBC. They came back, usually without comment. I never wrote 12-tone music because I didn't like the theory. I studied the blessed thing in the early 1930s and thought it was a cock-eyed idea that produced horrible sounds. It made composers forget how to sing. It was another twenty years before he felt strong enough to tackle the music-making business, but towards the end of his life, his music was taken up by a number of conductors, notably Sir Charles Groves and Edward Downes.
While he composed a number of pieces for brass band which perhaps would transcribe brilliantly for wind, there are two fine works for wind band. A march written for his ship and performed in 1941 at sea is entitled HMS Trinidad March and is available for both wind and brass band from Chester/Novello, published originally by R. Smith and Co. About 5.20 long, it is a splendid concert march, well worth playing especially in this centenary year. You can find it on Youtube, recorded by Black Dyke Mills.
A more substantial work is a ten minute tone poem, The Forest of Arden, which you will find through this link on the website dedicated to the composer. Commissioned by BASBWE in 1987, it is a welcome romantic piece, perhaps the kind of piece that Elgar might have written for us. The New York Times wrote of his music:
Critics were divided about Mr. Lloyd's music; some found it refreshingly communicative, others considered it old-fashioned. Even his detractors, however, recognized his compositional voice as authentic and original, not merely a 19th-century pastiche. Although his language is unabashedly tonal, there is a freshness in the melodic writing in the 12 symphonies he composed between 1932 and 1990, and there are engaging complexities in his solo piano works.
New York Times 10th July 1998
---
Share this Article: