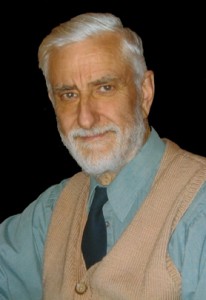 Published by Tim Reynish
Derek (Edward) Healey. Composer, organist, teacher, b Wargrave, England, 2 May 1936; B MUS (Durham) 1961, D MUS (Toronto) 1974. Derek Healey studied at the Royal College of Music 1952-6 with Herbert Howells (composition) and Harold Darke (organ). There he won the Cobbett, Farrar, and Sullivan prizes. He also studied composition in Italy at the Accademia Musicale Chigiana in Siena (1961-3) with Goffredo Petrassi and Boris Porena, before moving to Canada, where he lived for nine years. He taught 1969-71 at the University of Victoria, 1971-2 at the University of Toronto and the University of Waterloo, and 1972-8 at the University of Guelph. In 1978 he joined the Department of Music at the University of Oregon and in 1988 became professor of music at the Royal Air Force School of Music in Uxbridge, England. Healey retired in 1996 and settled in Brooklyn, NY.
Healey's Compositions
Derek Healey's compositional style, originally neo-Classical, later made use of atonality and the chance elements and mass-structure techniques of the 1960s. The titles of some of his works and his interest in native music bear witness to Canadian influence on his work. His compositions Gabriola, Opus 70 (1989), Salal, Opus 71 (1990), and From the West, Opus 72 (1990) are all based on the native music of British Columbia. From the West was commissioned by Rivka Golani. He composed substantial works for organ (eg, Partita '65), for orchestra (Arctic Images and Gabriola), and for chamber ensembles (Stinging, a work notable for the instruments' imitation of the synthetic sounds on the tape). His opera Seabird Island was commissioned by the Guelph Spring Festival and premiered there 7 May 1977. It was the first professional contemporary opera to tour Canada in the 20th century. Homage: F.D., Opus 65 (1985) for piano and organ was commissioned by Hugh McLean.
Healey's output has been steady and shows no signs of letting up. Since the early 1990s he has composed well over 40 works and has had several of these recorded. His music has been played by the Amadeus Choir, the Elmer Iseler Singers, Musica Intima, Patrick Wedd, The Winnipeg Singers, Quartetto di Sassofoni Acadia, and The New York Virtuoso Singers, in Canada, Germany, the United Kingdom, the United States, and Italy. His most-played work in Canada remains his arrangement of the "Salish Song," which is regularly programmed by choirs from coast to coast. Reflecting on his multi-ethnic style, Healey observed that "Despite the resulting compartmentalization of one's creative output, I feel that my music has been true to the different artistic worlds in which I have lived - the resulting divergences being an exciting phenomenon of global shrinkage and the immigrant twentieth-century composer" (Canadian Music Centre site).
Healey has more than 40 works published by Novello, Chappell, and Boosey & Hawkes. Other publishers include Jaymar and Augsburg. He is an associate of the Canadian Music Centre.
75TH BIRTHDAY OF DEREK HEALEY
Back in 1991, I hosted the joint WASBE and BASBWE Conferences at the Royal Northern, with gala concerts each evening at the Free Trade Hall. For me, one of the most interesting works played was given by the Central Band of the RAF, Derek Healey's Triptych. Since then, the Scottish conductor Nigel Boddice recorded Derek's One Midsummer's Morning, a tribute to Percy Grainger, with the West Lothian Celebrity Wind, and on the 18th February 2013 he celebrated the fiftieth anniversary of Grainger's death with a programme which included Lincolnshire Posy and Derek Healey's English Dances.
More information obtainable from the composer:
WORKS FOR WIND ORCHESTRA
Op 66 Symphony II: Mountain Music 1986 32'
When Men and Mountains meet,
Mountain Man
The West Wind,
The High Snows,
The Mountain's Song
Op 73 Triptych 1990 14'
Op 82 One Midsummer's Morning: 1997 20' 30" an English folk-set - Arrangements of six English folk songs:
Among the New Mown Hay
The Banks of Sweet Primroses
High Germany
Strawberry Fair
Bushes and Briars
Shropshire Rounds
Op 89h Latino Preludes 1999/03 8' 45". Four short preludes based on Latino religious songs:
Fanfare
Cancion
Aria
Salida
Op 93 Solemn Music: 2003 7' 37". A Tribute to Station Number 3, Brooklyn - an elegy for fallen firefighters
Op 95 English Dances 2004 16' 15"
Processional (Morris Dance)
Cheshire Rounds (Country Dance)
Jenny pluck pears (Elizabethan Dance)
How d'ye do, Sir? (Morris Dance)
Pop goes the Weasel (Morris Dance)
Sir Roger de Coverly (Country Dance)
Op125 Kore: a symphonic poem 2010 10'. For large wind band Single movement, in four main sections
Persephone picks flowers
The appearance of Hades, King of the Dead
Persephone in the Land of the Dead
Persephone returns to Earth (the Arrival of Spring)
Recording of One Midsummer's Morning available on a disc entitled The Gathering, conducted by Brian Boddice on Amadeus AMSCD69, PROMOTED BY West Lothian Council under the leadership of the late Brian Duguid.
Owls and Pale Maidens: a homage to Frances Macdonald and James Herbert McNair for Large Wind Ensemble and Percussion
To be performed by the Royal Conservatoire of Scotland Wind Orchestra, conductor Nigel Boddice, during the "Master O' Winds" rush hour concert in Stevenson Hall, at the Royal Conservatoire of Scotland, on January 18th 2013 at 5:30pm.
In my review, I wrote:
The work is a single movement tone poem, some sixteen and a half minutes in duration, cast in a contemporary but completely approachable musical idiom, a homage to two Glasgow artists of the first part of the 20th century, Frances Macdonald and James Herbert McNair, who with Frances' sister Margaret and her husband Charles Rennie Mackintosh formed the legendary "Glasgow Four", the leaders in the Art Nouveau movement in Great Britain. I had the benefit of hearing two rehearsals of the new work; it made quite an impression on me at first hearing, and by teatime on Friday I found it utterly compelling, a work that I want to conduct and indeed publish as soon as possible.
The opening motif is built on a minor third, fff descending to ppp diminuendo, and this in various guises represents The Owl, a signature motif for McNair in his designs. In this work it runs throughout, sometimes softly lyrical, plaintive, sometimes screeching over low brass and percussion. Contrast is provided almost immediately by a five note theme representing Frances Macdonald and her pre-Raphaelite Pale Maidens, gently suggested by oboes and flutes in G major, alternating with The Owl in G minor. Other thematic ideas abound, a rising arpeggio in the bass clarinet, muted thirds in the horns reminiscent perhaps of Holst, an almost Wagnerian motif in the trombones, a sweeping gesture on vibraphone, harp and piano. The mood intensifies with a piu agitato, brass ostinato accompany high woodwind. The main thematic and harmonic shape of the work is clearly stated and then developed at times through lyrical melodies of great beauty, at times through a dazzling variety of orchestrations and dynamic changes, before dying away in a heart-felt coda.
---
Share this Article: